A crown is a type of dental restoration which completely caps or encircles a tooth or dental implant. Crowns are often needed when a large cavity threatens the ongoing health of a tooth.[1] They are typically bonded to the tooth using a dental cement. Crowns can be made from many materials, which are usually fabricated using indirect methods. Crowns are often used to improve the strength or appearance of teeth.
The most common method of crowning a tooth involves using a dental impression of a prepared tooth by a dentist to fabricate the crown outside of the mouth. The crown can then be inserted at a subsequent dental appointment. Using this indirect method of tooth restoration allows use of strong restorative materials requiring time consuming fabrication methods requiring intense heat, such as casting metal or firing porcelain which would not be possible to complete inside the mouth. Because of the expansion properties, the relatively similar material costs, and the aesthetic benefits, many patients choose to have their crown fabricated with gold.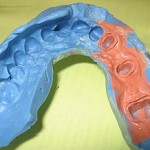 Endodontically treated teeth
After root canal therapy is performed, a tooth becomes extremely brittle and is significantly weaker than its vital neighbors. Therefore, posterior teeth (i.e. molars and premolars) should in almost all situations be crowned after undergoing root canal therapy to provide for proper protection against fracture. Should an endodontically treated tooth not be properly protected, there is a chance of it succumbing to breakage from normal functional forces. This fracture may well be difficult to treat, such as a "vertical root fracture".
Types and materials
Comparison between a porcelain-metal dental crown, an all-porcelain dental crown and a porcelain veneer laminate
There are many different methods of crown fabrication, each using a different material. Some methods are quite similar, and utilize either very similar or identical materials.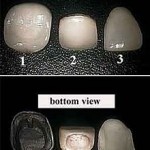 Metal-containing restorations
Zirconium disillicate is usually used in posterior teeth having various brand names because of their excellent strength.
Full gold crown
Full gold crowns (FGCs) consist entirely of a single piece of alloy. Although referred to as a gold crown, this type of crown is actually composed of many different types of elements, including but not limited to gold, platinum, palladium, silver, copper and tin.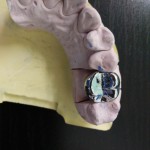 Porcelain-fused-to-metal crowns
Side view of porcelain-fused-to-metal crown for left mandibular first molar
Porcelain-fused-to-metal dental crowns (PFMs) have a metal shell on which is fused a veneer of porcelain in a high heat oven. The metal provides strong compression and tensile strength, and the porcelain gives the crown a white tooth-like appearance, suitable for front teeth restorations. These crowns are often made with a partial veneer that covers only the aspects of the crown that are visible. The remaining surfaces of the crown are bare metal. A variety of metal alloys containing precious metals and base metals can be used. The porcelain can be color matched to the adjacent teeth or gingivae.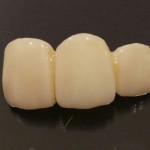 Restorations without Metal
Full porcelain crown without metal base