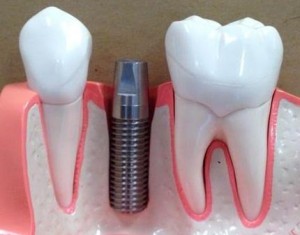 Dental implants are root like structure that are usually made of titanium. Dental implants are placed into jaw bone to replace missing roots through a small surgery and are then allowed to heal for a period of time to allow the implants to fuse with the bone. The dental implants will then be able to provide a strong foundation to crowns, bridges and dentures. Dental implants have excellent long- term success and provide advanced solution to replace missing teeth than the conventional removable denture or bridge.
Pre-prosthetic procedures, such as sinus lifts or gingival grafts, are sometimes required to recreate ideal bone and gingiva.
The dental implants therapies have various benefits:
It is an advanced solution in replacing missing teeth that most closely mimics natural teeth
Replaces one or more teeth without damaging the neighbouring natural teeth
Minimises bone loss
Improves overall self-image, speech and chewing capacity
Improves retention of dentures in the mouth
Long lasting solution
| | | |
| --- | --- | --- |
| Single tooth replacement | | |
| Implant supported bridge | | |
Oral and Maxillofacial Surgery
Oral and maxillofacial surgery is a specialty involved in treating diseases, injuries and defects in the head, neck, face, jaws and oral cavity (teeth, gums, tongue and mucosa).  It covers a wide range of surgeries including minor oral surgery (eg impacted teeth removal, surgical extraction of tooth, crown lengthening etc), dental implants placements and adjunctive bone grafting and augmentation procedures, orthognathic surgery (corrective jaw surgery), removal of cysts and others.
We here in Save A Smile Dental have a team comprising of 2 Oral and Maxillofacial Surgeons (Specialists in Oral and Maxillofacial Surgery) to cater to all your oral surgical needs.